Peekaboo Sunday
Is it possible to love a disobedient miniature horse? How about six of them? When Florence seeks the attention of her itsy-bitsy horsies, the depth of their unusual relationship is revealed.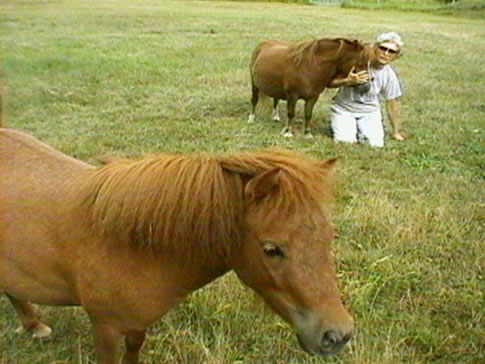 Press Notes
The great Russian filmmaker and theorist Sergei Eisenstein said, "You can lead a horse to water but you'll never get him on the BATTLESHIP POTEMKIN."
How that relates to Laura Levine's short film PEEKABOO SUNDAY is still a mystery. Peekaboo Sunday - which premiered at the 2001 Sundance Film Festival in the short film competition - is a candid expose of Florence, a woman who breeds miniature horses, and the unusual relationship that exists between her and her charges. With an original running time of four-hours-twenty-two minutes, filmmaker Levine decided to eliminate the car chases, gratuitous sex, star cameos (Mel Gibson, Soupy Sales) and extended musical numbers that she felt detracted from the heart and soul of her film. As a result, Peekaboo now runs one minute-forty-five seconds.
Filmed in the Catskill Mountains as an adjunct to Levine's feature-length documentary, Digging for Dutch: The Search for the Lost Treasure of Dutch Schultz, Peekaboo raises many disturbing questions about contemporary life in rural America. "Should one breed tiny horses?" "Is one wee horse enough, or is half a dozen preferable?" "Is it possible to love a disobedient miniature?" Like Geraldo, Levine is not afraid to ask the tough questions.
Before turning her cameras on these equines, Levine enjoyed a successful career as a photographer in the music industry (shooting for Rolling Stone, Sounds, The NY Rocker), and her work is on permanent display at the Rock & Roll Hall of Fame. An award-winning illustrator, she has two children's books, Wig! and the just-published Shake, Rattle & Roll: The Founders of Rock & Roll to her credit, as well as numerous commissions for magazines such as The New Yorker and Time Magazine, and CD covers such as the Verve Essential Jazz series and Richard Thompson's Rumour & Sigh. Her paintings have been widely exhibited, and are in the permanent collections of the Museum of International Folk Art in Santa Fe and the Galleria Comunale d'Arte Moderna e Contemporanea in Rome. This past summer Levine's paintings from Shake, Rattle & Roll were exhibited at the Experience Music Project (EMP) in Seattle and the Rock & Roll Hall of Fame and Museum in Cleveland. Levine has created a animated series pilot for MTV and directed music videos for Lisa Germano and Giant Sand, and worked with R.E.M. on her underground film, Just Like a Movie. The proprietress of Homer & Langley's Mystery Spot, an antique/ junk shop in Phoenicia, New York, Levine divides her time between New York City and the Catskill Mountains.
When asked what she hoped an audience would take away from Peekaboo Sunday, Levine looked up from the dough she was kneading and said, "If my film can create a lasting peace in the Mideast, I'll be happy."
For further information, please contact hokey pictures at (845) 688-7535 or (212) 431-4787, or at laura@lauralevine.com