Film Biography - Laura Levine
(director/producer/writer/camera)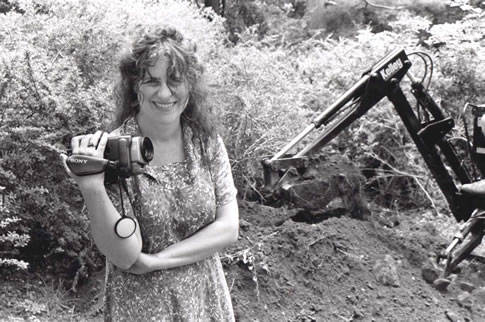 Filmmaker Laura Levine's eclectic background as a cross-disciplinary visual artist has led her to pursue a variety of cinematic projects. Her first documentary feature film, Digging for Dutch: The Search for the Lost Treasure of Dutch Schultz, had its International Premiere as an official selection of the Edinburgh International Film Festival in August 2002, and its World Premiere at the 2001 Woodstock Film Festival, where it won the Kodak-sponsored 2001 Torchlight Award for Best Feature-Length Film, presented by the New York City Film Project. The film has been the subject of feature articles in the New Yorker, the New York Times, The London Sunday Telegraph, Harvard Magazine, and the National Examiner.
Levine's first documentary short film, Peekaboo Sunday -- the brief and hilarious tale of one woman and her six disobedient miniature horses—had its World Premiere at the 2001 Sundance Film Festival as an official selection in the Short Film competition, and has gone on to screen at the Florida Film Festival, the Atlanta Film & Video Festival, the Lake Placid Film Forum, the Short Attention Span Film Festival, the Boston Museum of Fine Arts, and the New York Comedy Film Festival, among others.
Before trying her hand at documentary filmmaking, Levine's career as a music photographer in New York during the heyday of punk rock, hip-hop and new wave enabled her to work with everyone from Björk to James Brown for magazines such as Rolling Stone, The New York Rocker, and England's Sounds. She directed music videos for Lisa Germano and Giant Sand, and worked with R.E.M. and other Athens, Georgia musicians on the Super-8 underground classic, Just Like A Movie (1984).
An award-winning self-taught illustrator, Levine has created three children's books: Wig!, with the B-52's, Shake, Rattle & Roll: The Founders of Rock & Roll, and Honky-Tonk Heroes and Hillbilly Angels. Levine's illustrations have appeared in the pages of Time, Rolling Stone, and The New Yorker as well on the covers of numerous books and CDs.
Levine's paintings have been exhibited worldwide and are part of the permanent collection of the Museum of International Folk Art in Santa Fe, the House of Blues, and the Galleria Comunale d'Arte Moderna e Contemporanea in Rome. Her work is in numerous private collections, including those of Harry Shearer & Judith Owen, Nora Ephron, Lisa Bonet, Laurie & Larry David, and Cher. Levine's paintings from Shake, Rattle & Roll were exhibited at the Experience Music Project (EMP) in Seattle, the Rock & Roll Hall of Fame and Museum in Cleveland (for a four month solo exhibition), Yard Dog Folk Art, and the Buddy Holly Center in Lubbock, Texas. Levine's work in animation has been screened as part of the 2000 Animation Festival at the Museum of Television & Radio, and she was commissioned to create and develop an animated series pilot for MTV.
In her spare time, Levine, who grew up in New York City's Chinatown and graduated from Harvard University, is the proprietress of Homer & Langley's Mystery Spot, an unusual antique/ junk/oddities shop in Phoenicia, New York.
Scott Healy - composer
New York City composer Scott Healy is best known for his keyboard work in the
house band on Late Night with Conan O'Brien, appearing nightly on NBC. He has
also distinguished himself through his composing and arranging, as well as live
and studio playing. His has performed, written for, and recorded with a diverse
range or jazz, rock, and r& b artists such as Bruce Springsteen, B.B. King,
Ricky Martin, Christina Aguliera, Al Green, Branford Marsalis, and The Band to name a few. A native of Cleveland, Ohio, Scott studied at Eastman School graduating with a degree in composition and piano. He and his family split their time between New York City and the Catskills. Digging for Dutch is his first feature-length film score.