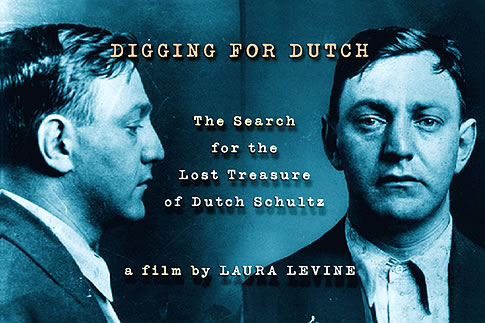 Digging For Dutch:
The Search For The Lost Treasure of Dutch Schultz
(USA, documentary, color, 88 minutes)
produced & directed by Laura Levine
**Official Selection, Edinburgh International Film Festival (International Premiere), August 2002**
**Official Selection, Woodstock Film Festival (World Premiere), September 2001 (recipient, Torchlight Award)**
Dig just beneath the surface of this offbeat true tale of the search for a gangster's legendary buried treasure and you'll find another story: an eccentric and charming portrait of rural small-town America. DIGGING FOR DUTCH is a tragicomic story of modern-day folklore, a gangster's legacy, faith, obsession, and the search for happiness. It's about people who follow their dreams, and the discovery of life's true treasures.
Produced and directed by rock photographer-turned-filmmaker, Laura Levine, Digging for Dutch premiered at the Woodstock Film Festival, where it was the recipient of the feature-length film Torchlight Award, and had its International Premiere at the Edinburgh International Film Festival.
Although as yet unreleased, this first-time documentary and its fascinating tale have been the subject of feature articles in The New Yorker, the New York Times, Harvard Magazine, the London Sunday Telegraph, and even the National Examiner.
Digging for Dutch follows up Levine's critically acclaimed 2001 Sundance-selected short doc, Peekaboo Sunday (which has screened at many festivals as well as Boston's Museum of Fine Arts).